Mrs. Dorothy Weiss – Intervention Specialist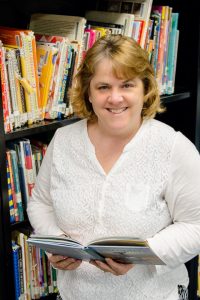 Hello, my name is Dorothy Weiss; I am the intervention and reading specialist serving St. Brigid.  This is my eighth year working at St. Brigid and my 25th year teaching.  Prior to arriving in Xenia, I taught in Alice Springs, Australia; Sumter, South Carolina; Dallas, Texas; and Ft. Wayne, Indiana.  I graduated in 1994 with a duel degree in Special Education and Elementary Education from Ball State University in Muncie, Indiana.  I moved to Ohio in 2006 and decided to further my education at University of Dayton.  I completed my master's degree in 2012 in literacy and reading.  In 2016, I also completed a certificate to include Orton-Gillingham training.
I have been married for 30 years and have four children. In my free time, I enjoy working in the garden, reading, and watching my chickens!  I love to bake, watch Jeopardy, and spend time with my family.
I believe that reading is fundamental to each child's success; and thus should be the center of classroom studies in the K-2 years.  Students must be taught to read in the early years, so that they can read to learn in the later years.  Reading is the key that opens the doors of our mind, and is essential to attaining future goals and achievements.
I also support a "respond with love" approach when working with students.  Each student comes to school with their own unique set of strengths, weaknesses, history, and background.  I believe that is my responsibility to learn about each individual child and meet them where they are so that I may connect with them.  I must gain a level of trust in order to allow the child to make mistakes in a supportive, non-judgmental environment.   Only when a child is engaged in a safe, organized, positive classroom will the child begin to blossom into a successful member of society.  When someone responds with love to a child (rather than anger, disdain, or irritation at daily interruptions), he/she will learn to trust.